Joined

Apr 4, 2011
Messages

278
This is a big ol' dang box man, and it's stuffed.
Magnets?? Looked over the instructions, first 6 steps are the engine alone. Magnets are used to hold in place removable panels and landing gear components so you can swap out up or down scheme.. to me, this has no value. I don't want to build a toy, I can see losing one part or another some time in the future. I may seal it up to prevent that.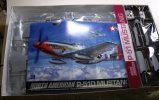 Open the box and you get a really nice little clear plastic folder with color poster of the Mustang and other offerings (I didn't even study the other side. One thing that caught my eye was the Boeing Officially Licensed Product logo.

All these engine parts!

Nuts, screws and even a little screwdriver!

Also included are some color posters, a nice little reference book, I haven't looked over it closely yet but at least it would be a nice keepsake. Two sheets of PE, canopy mask and a pretty cool metal nameplate for the base. Like all these plastic bases, I would have liked to see something more substantial, I think the completed aircraft will be heavier than the stand making it top heavy, though it does have a wide stance.
Looking over the instructions I see call outs on even where to apply glue and what type of glue. Tamiya has really put forth a great effort on this kit. One thing that pops out at me about the right hand panel in the cockpit. there's no IFF panel there. Now I'll admit my own ignorance and say that I do not know when the IFF panel was first used, never looked into it. But a lot of the reference stuff I have on the Mustang cites it on the right hand side towards the rear of that panel. Maybe someone can set me straight if it should be there or not. Guess all that depends on the variant you're doing.
But what I can see, you can do any variant of the D model Mustang out of this kit. What I didn't see is weapons. only the 75gal tank and 108 gal tank. No hard bombs, no rockets. Maybe later? I also see a list of parts not used according to the instructions. Future use maybe?
Well that's my initial report, I'm digging right in to this as I'm in a Mustang mood. Thanks for reading and indulging.