Joined

Jun 27, 2021
Messages

571
So was looking at my Tamiya AS 29 Grey green...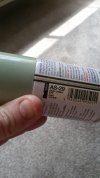 It looks like a pretty close match to the molded color of the model. So maybe I will use that after all despite my dislike of the green tint. Dunno. Just shot some onto that small E I tested the other grey on. If I like it, then I'll just do it.
EDIT: SO... shot the color on the small E.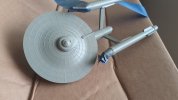 Gonna go with it. The green doesn't offend me as much as what is molded on the kit. So gonna get probably 6 more cans.
Last edited: