Hello,
New to the forum but iv been lurking around a little lately.
Iv just started building the RFM Tiger 1 with full interior and was wanting some help identafying something. searched a few places but been unable to come up with an answer.
">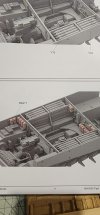 The pink boxes. The best iv been able to come up with is there was clips on hull wall for mess tins. but this seems like a hell of alot of mess tins, figured they are not any form of battery as they are under the floor, Maybe something to do with electrics?
Any info would be greatly appreciated so i know what color to paint them.
Thanks.