Joined

May 6, 2009
Messages

459
I am currently in the process of trying to scratchbuild a
Banshee.
The Banshee is a space ship from the well known Wing Commander IV game and it basically looks like this: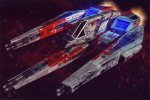 Apart from the SMA EGGZtravaganza contest and some random boxes for a Harrier mini diorama, I have never ever scratchbuild something. This will be a first for me and to kinda force myself to actually finish this, I am posting this here.
This is, what I am currently at. Built the main shape of the three "wings" and am now trying to add that weird ventilation, exhaust... things.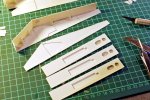 The next update may take a while, because it takes ages to do those ventilation things. I am currently cutting out a thousands of thin polystyrene stripes, which will be placed in the recessed areas. :'(