Well-Known Member
Glue Member
Joined

Jan 27, 2011
Messages

188
Dude try it. Like ras said, there's not much to loose. I hope ras won't mind me showing... I replaced some wires, and scratched the cloth on the back of the old mpc speeder bike.

View attachment 1277 View attachment 1278

Rastanz I'm sorry for jacking your thread... Just say the word and I'll take em down.
That's totally fine mate, really awesome work with the wires and that cloth looks real to scale.
I also have an mpc speeder bike in my stash, dunno when I'll get to it but it's on my future to do list.
Thanks for sharing your work.
It is a shame how sparse the Revell kit is one details, You think for the 50th anniversary kit they might do some extra details similar to how the 30th Anniversary BSG kits addressed some of the shortcomings of the older kits

At any rate, it is a vast improvement!
True about the lack of detail on it, thinking to myself for a 50th it'll be awesome, but.... not the case here, I don't mind anyway, I'm still glad I picked it up.
I didn't read or watch any unboxing reviews of the kit, I bought it as it was going at half the price they usually sell for here plus I've really wanted to build and own one.
.....................................
Woohoo! my metal earth magnets arrived this morning (6hrs) ago so I jumped right into construction.
I had already planned my strategy to where and how I was going to mount them, I wanted each module section to have a solid connection so I made sure the magnets had plenty of contact. I used only one metal screw which is mounted to the underside of the command module which it still has a pretty solid connection with the magnet.
I mentioned earlier I was cutting off the little nub on the top of the command module as I wanted the area to look nice and flat so I did and mounted a magnet in it's place.
I used styrene tube to house another magnet which I covered the hole (where the command module connects) that was on top of the lunar module.
Happy how the magnets worked out as they hold really great but not too much that I need to force pry them apart.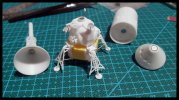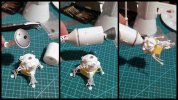 Going back over some more reference photo's I decided to add more piping detail to stage 3's engine area.

Just some tidy up to do then I can start laying down some primer on the seams and see where I'm at.
Thanks for looking.