Eyeballs deep in muddy waters...
Joined

Apr 28, 2011
Messages

55
***(Sorry guys, these photos aren't edited for the format on this site, so I apologize that you'll have to use the slide bar at the bottom of each posting to view each side of the picture)***
I'm building this for a friend. He built a Revell issue a long time ago (1972, and used an incorrect "E" model) in these markings, which he handpainted. He wanted to build it again, better this time, with actual decals, but unfortunately, before he could get to it, some medical issues have all but prevented him from building anything. I told him I would be honored to build it for him since he couldn't anymore.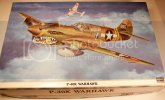 I've never been too fond of the Eduard prepainted items, mainly because the colors are usually incorrect and also because the few times I have used them, I haven't weathered the parts any. So, I decided to spray a flat clear coat over the top of all the prepainted stuff to facilitate some weathering later in the form of filters and pastels. This will 1. allow weathering, and 2. allow me to alter the color a bit if needed to get it closer to the correct color, though I don't see much if anything that will need to be altered.
The color fret as it comes from Eduard:

and after a clear flat coat has been applied. Not sure if a difference is really noticeable in the pics, but I can see it IRL