Joined

Jun 27, 2021
Messages

571
Okay, so here is where the spinner is at...
I used my Handy Drill with the smallest bit I currently have for it to dril about 8 holes around the center post. I then CAREFULLY pulled it so it was centered in the spinner. The remaining plastic did break, but because of how I drilled the holes around the post the break wasn't clean through and wedged the post in a centered position.
I then took a circle of clear styrene and superglued it to the outside(there is not gonna be any photoetch on the spinners now due to this. Will paint the fans).
I then let that set, and liberally added super glue to the inside, building up a mound around the post(may need to do this again since some leakage occurred.
Which leaves me with: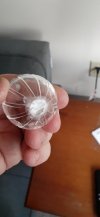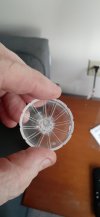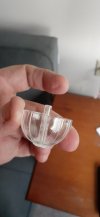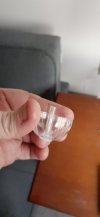 Once the glue has cured fully I will carefully sand down the disk on the outside, and may put more glue inside. I am not terribly concerned with the crazing as I am planning to frost the heck out of the spinners and insides of the outer Bussard domes anyhow.
Hopefully this works. Fingers crossed.