hi everyone!
hope you are all well.
I recently started building aircraft scale models, and as im a newbie i watch a lot of videos on YouTube to learn about tips and tricks.
One on particular video, I found that the guy is using the different layers of paint in the following format: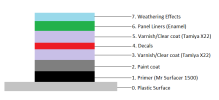 (layers are not to scale)
the original video is here:
here
as im new to this, i had a few questions to ask:
1- in the above example, isn't there a need to add another layer of varnish/top coat as the 8th step? if so, what brand/model of varnish would you recommend?
2- I am currently building a MiG-21SMT Weekend Edition by Eduard. I would like the main camo to be Aluminium paint, however I am not sure what to use as a varnish, like Satin, Matte or Gloss?
3- if i had a coat of Mr Surfacer 1500 primer thinned with Mr Levelling Thinner, and after a day or so i use a color paint thinned with Mr Levelling Thinner on top of that, would the previous layer of primer be affected by the thinner?? will the fresh thinner start to dissolve the layer underneath?
Many thanks for helping me!
Last edited: