Joined

Nov 23, 2012
Messages

91
I'm going to be away from my shop for the next week, so I wanted to get my engine finished and detailed. I've never tried to do this at this level of complexity and I think I did a good job.
The wiring is Memory Thread from Michael's, the big craft store here in the US. It's copper wire with cotton thread wrapped around it. I CA'd it in place and brushed it with Future to get it to hold it's shape. The stray looking wire running out the front of the distributor goes to a control box I scratch built and couldn't fit on the front plate of the engine. It has to mount on the chassis, which is OK. I used the same material in different colors for the oil lines. It's not quite to scale but the braided line I got from the aftermarket was too small. Live and learn. The transmission wrap is something that has been developed to replace steel scatter shields in modern race cars. In the 1:1 world it's Kevlar and in my 1:25 world it's Duct tape. The safety straps are made from tape painted yellow. The thing is called a transmission blanket, or "diaper". Take your pick.
I have belts for the pulleys and PE faces, but that will have to wait.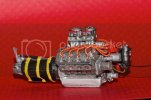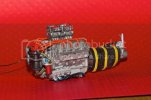 I scrapped the idea of trying to replicate any kind of passenger car interior in what I was building as a trailer carried race car and scratch built the interior with a minimalist feel. The primer I used here was Mr. Surfacer 1200 cut 50/50 with lacquer thinner and shot through my old air brush. It worked great but I couldn't bring myself to subject a new Iwata Evolution to that kind of stress. It leaves a nice sandable finish.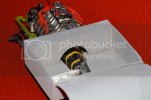 My original thought was to have the body secured to the interior and the engine and chassis as one unit, but I'm going to mount the interior to the frame with the engine and have the body removable. This is the modular approach used in real race cars. Removing the interior isn't feasible because it's attached to steering and all that good stuff. Pull the body and service the chassis and motor.
After my break, it's get down time with the body work. I found a replacement kit on-line and snapped it up just in case I mess something up. So far I've been able to "un-do" all of that. Never say never. Safety first. Hide the Dremel and so on.
See you soon and enjoy your building.
Dale