Eyeballs deep in muddy waters...
Joined

Apr 28, 2011
Messages

55
Hey guys, here's another build I'm doing for a group build over on ARC.
David "Tex" Hill earned his wings as a U.S. Naval Aviator in 1939 and joined the fleet as a Devastator torpedo bomber pilot before joining a Dauntless dive bomber squadron aboard the USS Ranger. In 1941, he was recruited to join the 1st American Volunteer Group (AVG) . He learned to fly the P-40 in the AVG training program in Burma. By the time the AVG was disbanded in the summer of 1942, Hill was a double ace, credited with 12 ¼ victories.

On Thanksgiving Day 1943, he led a force of 12 B-25's, 10 P-38's, and 8 new P-51's from Saichwan, China, on the first strike against Formosa. The Japanese had 100 bombers and 100 fighters located at Shimchiku Airfield, and the bombers were landing as Hill's force arrived. The enemy managed to get seven fighters airborne, but they were promptly shot down. Forty-two Japanese airplanes were destroyed, and 12 more were probably destroyed in the attack. The American force returned home with no casualties.

After the deactivation of the Flying Tigers in July 1942, Hill was one of only five Flying Tigers to join its USAAF successor, the USAAF 23rd Fighter Group with the rank of major. He activated the 75th Fighter Squadron and later commanded the 23rd Fighter Group as a Colonel. Before returning to the states in late 1944, Hill and his P-51 shot down another six Japanese aircraft. Hill was credited with destroying a total of 18.25 enemy aircraft.

In 1944, Hill returned to the U.S. and took command of the 412th Fighter Group, America's first operational jet fighter group flying the P-59 Airacomet and the P-80 Shooting Star. He separated from active service in 1945.
Col 'Tex' Hill, CO of the 23rd FG, took one of the first P-51Bs (43-124051) as his personal aircraft and named it "BULLFROG I" which was a pet name Tex had for his wife Mazie, as her voice was a bit "baritone." There are a few pictures floating around the net that show a different -B Mustang that had a different sharkmouth painted on it. I think they were a/c he flew a bit later in his career. It is also unclear if the name painted on the cowling is "Bullfrog I" or "Bullfrog !" and from this picture (the only one I've been able to find of 312405) it's hard to tell which it is, hence the mystery I suppose.

Most likely be building this one OOB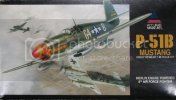 Obligitory sprue shots: