Joined

Jan 6, 2012
Messages

760
All done with the gold paneling now.
Here's the dorsal fin: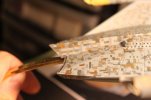 Aztec Paneling on Fin
by
trekriffic
, on Flickr
Also the bow rim:
Aztec Paneling Bow
by
trekriffic
, on Flickr
The stern and sides are done as well. Mulling over the idea of overlaying the metallic panels with two shades of grey aztecing thinned with ModelMaster clear enamel so the metallic panels show thru. This aztecing would be larger panels alternating darker with lighter grey panels like those seen on the Enterprise D. This would be brushed on and lightly sanded before doing the final overspray with the airbrush.
Anyway, while the paint dried I decided to do something I'd been thinking about for the bussards, something I'd seen in a SOTL calendar image showing a BOP flying low over the Romulan Capitol. I added some spokes to the rim of the domes. This further cements the notion this ship is influenced by Federation tech. Here's a test shot with the blue LED lighting one of the domes on the front of the nacelle: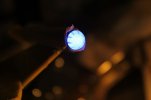 Bussard Spokes
by
trekriffic
, on Flickr
Before I could get started on the other dome; however, I noticed this:

Cracked Bussard Dome
by
trekriffic
, on Flickr
Crap! A large crack halfway across the dome!? As the part is still on the sprue I'm calling this a factory defect. The only thing I did with the part was to brush some Floquil flat base on the inside of the dome for diffusion purposes. No other stress was placed on the part that would have caused it to crack. So I'll be mailing in my UPC/Date code off the box with the parts replacement request form to Round 2. Hopefully they can ship out a new dome to me within the next few weeks.
In the meantime, I'll continue working on the paint job.