Joined

Jan 6, 2012
Messages

767
I built the original Polar Lights Jupiter 2 kit back about 20 years ago but was never completely satisfied with it.
At the time, I was just getting back into model building after a long layoff and did not have the expertise
I have now to make the model better than it was so this was pretty much a straight from the box build.
I did actually buy a set of aftermarket decals for the interior back then but I never got around to applying them, that is, until now.
The photos that follow detail my attempt at turning this somewhat inaccurate sow of a kit into a silk purse or something close to that.
Initially I was intending to just apply the decals but, as the decals required me to scratch build certain items anyway, I decided to go all in and modify other areas not related to the decals as well. Things like the pilot seats, the computer wall, etc. that were either woefully inaccurate or lacking in detail.
So here we go. Now if I seem to get lost or go off course, don't worry, there's no Doctor Smith here to sabotage my return...
First I laid out the separate elements of the model on my workbench - the upper saucer hull, upper deck, and lower deck and saucer: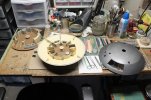 Jupiter 2 - Rework- Components
by
Steve J
, on Flickr
Not sure where I got these decals but I know they were made by a fella named Jim James back in 1998.
The decals are cross-referenced to the individual Polar Lights kit part numbers; fortunately, I still had the original kit instructions to help me with decal placement: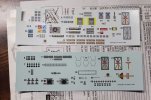 Jupiter 2 - Rework- Aftermarket Decals
by
Steve J
, on Flickr
First decals were applied to the lower deck auxiliary control console.
The decals will go a long way to improving this model. Polar Lights really missed the boat by not including any decals with this kit: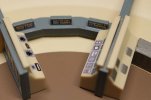 Jupiter 2 - Rework- Auxiliary Control Console Decals
by
Steve J
, on Flickr
Veered a tad off course and decided to modify the height of the upper dome. Ron Gross is considered an authority on the Jupiter 2 studio model and he helped design this kit. One thing he recommended when doing his own buildup of this model was to reduce the height of the upper saucer dome by 15%: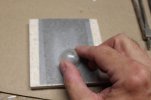 Jupiter 2 - Rework- Sanding Down Upper Dome
by
Steve J
, on Flickr
More to come...