Joined

May 6, 2009
Messages

459
Here's my second build ever. A
1/144 Harrier from Revell,
which was a really cool kit. But honestly: I don't want to put something that tiny together ever again. Kudos to all 1/144 builders. The parts are sooo tiny. The decals are sooo tiny and everything is sooo fragile. Incredible.
I took the chance to actually try to scratchbuild my very first base back then. I used some 5 mm PVC stuff from work, placed some sandpaper on it and scratchbuilt stuff like boxes, a weird container thing, a latter (which is awfully wrong, too) and a weird rail thing. I also added 1/144 ground personal (US Army, I guess?) from Preiser.
In the end the base took longer, than the harrier, but who cares.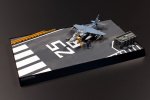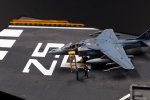 More pics!
http://www.andersdenkend.com/zwischenraum/Modellbau/Modellbau_Revell_144_Harrier_04.jpg
http://www.andersdenkend.com/zwischenraum/Modellbau/Modellbau_Revell_144_Harrier_05.jpg
http://www.andersdenkend.com/zwischenraum/Modellbau/Modellbau_Revell_144_Harrier_06.jpg
http://www.andersdenkend.com/zwischenraum/Modellbau/Modellbau_Revell_144_Harrier_07.jpg
http://www.andersdenkend.com/zwischenraum/Modellbau/Modellbau_Revell_144_Harrier_08.jpg
http://www.andersdenkend.com/zwischenraum/Modellbau/Modellbau_Revell_144_Harrier_09.jpg
http://www.andersdenkend.com/zwischenraum/Modellbau/Modellbau_Revell_144_Harrier_01.jpg