Joined

May 22, 2009
Messages

11,193
Taking a break from working on cosplay projects, I've built up the Polar Lights 1/2500 USS Enterprise NCC-1701 from Star Trek: Discovery

Quick look at the parts for the kit.
There is some very detailed plastic for this scale here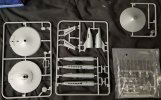 Preliminary painting of the transparent parts.
I've used Citadel's transparent red and transparent blue backed with white.
For the main dome and saucer parts, I used two coats of white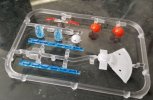 Painted the deflector and deflector housing in with a brass color

Basis sub-assembly work was fairly quick.
Although I did glue the smaller detail pieces onto the nacelles to avoid them coming off.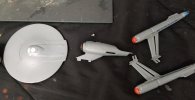 Well, I screwed up and placed some of the nacelle strut decals on the wrong sides of the struts.
Luckily, one of the first things I do with a new kit is scan the decals into my computer.
This way, I was able to print up a new copy and put the right decals into place on the model.