Joined

May 7, 2009
Messages

3,233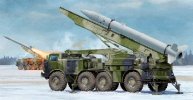 1025 1/35 Russian 9P113 TEL Launcher w/9M21 Rocker of 9K52 Luna-M (New variant)
The 9P113 is a Soviet short-range artillery rocket system. The 9M21 rockets are unguided and spin-stabilized. Its designation is 9K52, and its NATO reporting name is FROG-7. "FROG" is an acronym for "Free Rocket Over Ground". The 9M21 rockets are mounted on a wheeled transporter erector launcher (TEL) which features a large hydraulic crane used for rocket reloading. Kit consists of over 900 parts including cab, rubber tires and photo-etched details. Completed kit measures nearly 12" long!
5809 1/48 USAF T38A Talon Thunderbird Jet Trainer (New Variant)
In 1974, during the oil crisis, the famed Thunderbirds aerobatic team switched from the gas-guzzling F-4 Phantom to the more fuel-economical T-38 Talon. Five T-38s used the same amount of fuel needed for one F-4 Phantom. The switch to the T-38 also saw an alteration of the flight routine to exhibit the aircraft's maneuverability in tight turns. Kit consists of over 100 parts including photo-etched details.
7111 1/72 Russian ChTZ S65 Tractor w/Closed Cab (New Tool)
The Stalinetz S-65 was the most numerous of the Soviet tracked tractors of WWII. It was used to tow heavy ordinance, most notably the 203mm Howitzer and 152mm Howitzer-Gun as well as for recovery tasks. Many were subsequently captured and used by the German Army to tow a variety of loads. Kit consists of 18 parts.

7112 1/72 Russian ChTZ S65 Tractor w/Open Cab (New Tool)
Same Soviet tractor as above, but with open cab. Kit consists of 17 parts.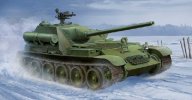 9505 1/35 Soviet Su100 Self-Propelled Artillery Tank (New Tool)
The Su-101 was a Soviet prototype self-propelled gun developed during WWII. It was a turret-less, tracked armored fighting vehicle designed between autumn 1944 and spring 1945. It used the chassis of the T-44 medium tank and was intended to replace the SU-100. Two prototypes were built in early 1945, and while mass production was initially recommended, the end of the war with Germany in May 1945 eventually caused the project to be cancelled due to lack of necessity. Kit consists of over 340 parts including tracks and photo-etched details.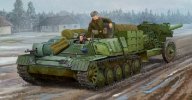 9509 1/35 Soviet AT-P Artillery Tractor (New Tool)
The AT-P artillery tractor, also referred to as a gun tractor, is a tracked turret-less specialized heavy-duty form of tractor unit used to tow artillery pieces of varying weights. The AT-P was commonly used by the Soviets in WWII to move armor and guns from one location to the next. Kit consists of over 280 parts including copper cable and photo-etched details.
9836 Battery Operated Round Mirrored Display Turntable for Model Kits (5"Dia)