Joined

Feb 27, 2016
Messages

18
Might as well chronicle my adventure here. This will be my first model build attempt with attention to scale details. I know there will be plenty of mistakes but it should still be fun and still be a great learning experience.
Just ordered my first airbrush (Badger Patriot 105) with Master Airbrush TC-20T 1/5 HP compressor. Its a cheap compressor so if it poops out (which I hope it doesn't) I have my 6 gal. 2HP (noisy) air compressor as a back up. I am thinking of getting a cheap model of some sort to practice airbrushing on.
I will do a paint scheme different from Tamiya's image below but this is the general look of the tank.
EDIT: Okay I haven't even started and I am already changing my mind on the model to build. I admit not doing as much research on the M4A3 variant but I thought the one I bought originally was the "Fury" version. It wasn't. I originally set out to built that version. So I found the right model and this is the one I am going to build.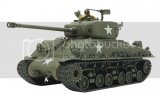 Image from Tamiya: Sherman M4A3E8 (Tamiya model: TM35346)
-Steve