Joined

Apr 9, 2012
Messages

344

I am in an aircraft frenzy and got this Blackbird on the bench. Old (1985?) kit.

Smooth finish, took a while to learn how to use the Air Brush.

The horror after putting a clear coat on it for the decals. Was planning to wheather it with oils. Tried some but it looked awful. Wiped it of and Sealed the whole thing with matt varnish and used pigments for wheatering instead.

The smoothness is back and the pigments makes soft transitions.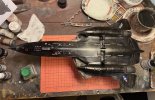 Just assembled the landing gears. Will put matt varnish and pigments on lower hull next