Joined

Nov 14, 2011
Messages

829
Ello Folks
I am now painting The Nylon Gag MK1, this is a very large model so i am using my airbrush for much longer periods than i normally would.
It has this annoying habit of spitting water into the system after about 5mins of use, i have a water separator, which i drain regularly, but it seems to happen when the compressor gets hot.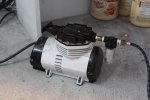 Anybody got any ideas out there in Addict land?
It's beginning to really annoy the banana's out of me ;D
Gagster