Joined

Mar 18, 2011
Messages

5,024
Hello Mario!! Thank you very much for the kind words my friend!! It is most appreciated!!!
I am happy to hear you pick this kit up. She is a fun filled build! Your question about the decals on the Port and starboard sides......
You can see in this picture, I placed the Main decal just at the end of the superstructure where the forward funnel is located. The Draft markings, the tiny numbers that show the depth that the hull rides low in the water, are placed in the centerof the four characters.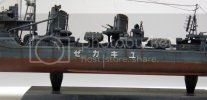 Picture for discusion purposes only
I tossed up the reference picture I used for you as well. As for the stern markings, I used the supplied kit directions for placement. Basically I centered this one below the external degaussing cable (molded cable that runs around the outside of the hull just below the weather deck)

I hope I help with your question(s) on this. Please feel free to post any other question you may have on this, I will try and answer them for you! I look forward to seeing your progress too. Good luck!!