Joined

May 22, 2009
Messages

11,177
Bringing this one back from the great beyond.
Working on a new version of my previous Sith Armor cosplay.
This time, I'm using Sintra rather than EVA foam.
Started the new armor base in 1/4" Sintra versus the older version being in 1/2" EVA foam
Layouts started, based on the older piece

For the bracers, I'm basing the detail on bracers worn by Therion Jinn in Star Wars: The Old Republic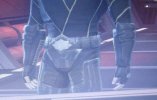 Finished laying out the new chest piece.
This version won't have the center plate of the original

Base piece cut out.
This was done with a LOT of passes using a box cutter

I laid out the pieces for the arms and legs, and then cut them out with a jig saw. Saved a LOT of time and work doing that