Hello guys
I've had this for some time now. I WAS going to just build it out of the box, but it has some flaws I just can't live with.
The angles of the engines for one, the hight of the 'jaw'... And finally the the armor plates, especially where they meet the ribs, and the way the molding was done, it gives the plating an extruded look. The thickness of the edges into the flight pods. The curves on all the edges of the ribs where they meet at extreme angles... And more.
So, I've worked on this thing on and off, put it away for a long time... But it's a Battlestar, and it deserves to be build.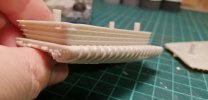 Last edited: