Joined

Dec 17, 2010
Messages

2,118
Hey Everybody !!
This was originally destined for th BSC but Just couldn't get it finished in time ! My Eyes were bigger than My Time ! lol But here is a little know tank from th Jerries.
PzII B Beobachtungsturm . Belonging to 13th Panzer Division Russia , On or around Early summer '42.
https://www.youtube.com/watch?v=bqP7fh2VgpY&index=83&list=PL8861795936053262
I fudged up th Lower Hull. These PzII's are a little funky up front. Each end of the Lower hull Tub seems to flare out. I just thought it was the Hull in the White Box. But I also had th Smart Kit from DML PzII B - it has a much fuller interior !! More Ammo racks ( PE ) Ammo ! A little fiddly tight fit ...







After this shot I added some more Pigments & dirtied up th nose.



I used a gloss to drop in the optics of the scope. dry brushed with Gunmetal, rubbed with Steel pigments.

Used RB Barrels's MG 34 barrel & Their 20mm cannon.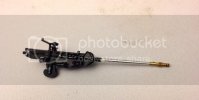 Added th Radios & the crank for the Antenna.

I reverse painted th camo. Using Panzer Putty as a mask - I actually think it got a little too wide. The Putty got a little soft under th light at th bench( 60w light) & spread out a little. At th time , I didn't think too much about it until after I removed th mask.








Decals are CartoGraph & are from the Book - Barbarossa 1941 . They laid down great with a lil Micro-Set !! And the ZeltBahn Camo is started on the Tarp - From Black Dog.
The Weathering has started with a dry brushing of Panzer Grey, Blue Grey wash for Panzer Grey. and a Dark Brown Pin Wash through out. Sealed with a Satin & ready for round 2 !!

I knocked off one of th PE Lifting hooks. These tiny lil' buggers are 2 piece. ( PE Set from Hauler PzII ) I had reservations putting these on but figured ... Hey ! What could happen. I used K4's Rusting fluid on the Muffler , that will get a PE screen over it , But at least I know it's there ! ;D



Added Mud FX layered in there !! Added some Grass for good measure.



​
I just have to fix up the Fruil Trax , throw th Roadwheels on & add a few of the Pioneer tools then She's done. !!
Thanx for looking !!
\m/\m/