Hey guys
Finally done with my diploma... For a while anyway. I've parked the Galactica at the shipyards for a while... No more modifying kits for a now.
Anyway I've had this kit for many years and I figured it'll build up to a nice kit without too much trouble...
The inside is hardly visible so I don't have to go nuts with details. I figure there's a lot of big flat surfaces to have fun with ones I get to the painting stage...
Not sure if I'll go with the black cat or the aluminum version... Somehow I think such a big plane all black might bee to much...
Stressed and weathered three tone classic color scheme somehow appeals to me. Anyway I have to see about that, when I get closer to the painting stage.
BTW... This was back when you bought a kit, you bought the reference material as well... In my case In Action and Walk Around.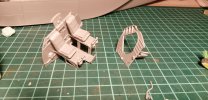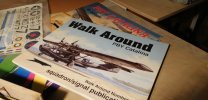 Enjoy