Ich bin ja, Herr, in Deiner Macht
Joined

May 12, 2009
Messages

1,830
Well, now that Scale Model Addict is back in business, I can show that I was busy in the meantime, and actually do finish a kit occasionally.
Here is my latest, Nitto's old Gustav kit.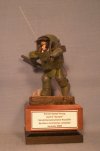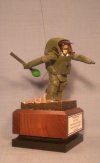 I started this on a Saturday in March, and finished it over three weekends. I wanted to have something for our MaK display at MFCA. I took it to MosquitoCon, too.
Kit is pretty much out-of-the-box. I made some minor modifications:
I gave the pilot earphones, made from Apoxie Sculpt, wire, and bits Plastruct tubing.
I added a bulkhead to separate the cockpit and engine compartment. Otherwise, it's a clear view straight through
I put an additional cushion on the seat back, also a bit of Apoxie Sculpt. Of course, it's not visible now
I replaced the kit hose springs with fine beading wire, because I couldn't get the springs to fit properly into the cups on the legs
I added joint covers and weld beads with Apoxie Sculpt
I added the whip antenna from glass filament and fine beading wire for the spring base
Goal was to finish the build, so I kept the color scheme simple, too. Tamiya flat acrylics, Green blotches over Medium Blue base.
I primed with Army Painter matte black, intending to scuff the finish colors down to the black primer. But I must have put the finish colors on too thick, because it hardly scuffed. I wound up using flat black to depict chipping.
I wanted to depict the suit in active motion, following my interpretation of the suits as working like Robert Heinlein's powered suits, not plodding suits of armor. I think it came out pretty well, but I also learned some things about posing a model in motion, that I will apply to future builds.
For an old kit, it's not bad. I didn't run across any major fit issues. I was disappointed to find that the really cool machine pistol gets hidden behind the seat back, once everything is closed up. If I hadn't already closed off the engine compartment, I would have fit the machine pistol bulked in that place instead, so you could see it.
Kit decals were still good, too. Though, they needed really hot water to get them to lift off the backing paper. With warm water, it was almost 10 minutes till they came off.
The base is a piece of foam insulation, carved to a rough terrain, covered with wood paste, with some fine gravel, and painted in tans and browns. The clumps of scraggly grass are made from twine.
It was fun to start a kit and finish it in a couple of weeks, instead of starting and then putting it aside. This gives me motivation to jumpstart another build, a diorama using the recent AFS kit that came out a couple of years ago.
Comments and criticisms are welcome, and thanks for looking!
Best regards,
Brad