Joined

Jan 23, 2022
Messages

84
Hi everyone! Some of you requested to see pictures of the models I have built in my first year of modeling. Here are a few of them.
This is the first kit I have built, painted and weathered. It was very easy to build but I repainted it a second time because I was not happy with the result and also because I was learning new techniques I wanted to try. Before repainting it, I tried to make some of the wood planks uneven with the others to make it look older.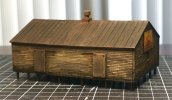 With this project, I tried to improve my weathering techniques and produce an old and rusty propane tanks business. I hope this company is closed because of the hazard risk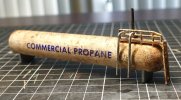 This is a part of a mine from Walthers company. I was trying to (again) create a rusty building. I don't know why but I love rust.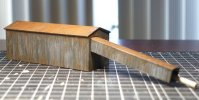 This is my first kitbash project and the one I am actually working on. I have mixed one Walthers kit with one Woodland Scenics kit and I am adding lots of details (loading dock, chimney, roof details, climbing vine on a wall ... It's not finished yet but it will give you a good idea.