Joined

Dec 10, 2014
Messages

342
5 or 6 weeks ago, I bought an AnyCubic Photon 3D printer and have been experimenting with various objects. A few missteps and boo-boo's here and there, but things have been progressing fairly well. It's a learning process for sure. I've been 3D modeling for well over 20 years, and do it as part of my profession as an industrial designer. I bought this machine though specifically for model parts and will probably offer a couple of sets for sale on ebay or something.
I have this old HobbyBoss AAV that I'm morphing into a post-apocalyptic thing. Sort of Mad Max meets The Walking Dead meets The Road... I have drawn these parts in Sketchup, and exported them as STL files.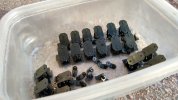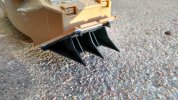 The more interesting one here is the space shuttle main engine or SSME and OMS engine nozzle. These I actually drew in 3DS Max some years ago and have modified the file to make it suitable for printing. There was some trial and error, but the end result is quite nice, and the detail I could never capture in purely scratchbuilding. These are for the Monogram 1/72 shuttle, I have 2 full shuttle stacks buried in the stash. These I may offer for sale as a set of 3 SSMEs with the 2 OMS nozzles. I've created them using NASA documentation, so they are pretty accurate. There is space between the nozzle and the piping just like the real engines.