Joined

May 8, 2021
Messages

57
Hi everyone,
I assembled this Ebbro Kit: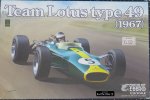 by
Rodolfo Masti
, on Flickr
to make this car: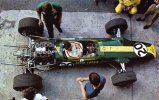 Lotus 49 Jim Clark Became the pole sitter of 1967 Italian Grand Prix Source:
Carthrottle.com
"The 1967 Grand Prix of Italy at Monza is considered by many to be one of the best Formula One races in history. It was also Scotsman Jim Clark's best drive of his career. The irony is that Clark didn't even win the race, merely coming back from a post-pit stop deficit of nearly a lap to overtake the entire field before yielding to a fuel shortage.
In the 1967 Italian Grand Prix at Monza after starting from pole, Clark was leading in his Lotus 49 (chassis R2), when a tyre punctured. He lost an entire lap while having the wheel changed in the pits. Rejoining sixteenth, Clark ripped back through the field, progressively lowering the lap record and eventually equalling his pole time of 1m 28.5s, to regain the lost lap and the lead. He was narrowly ahead of Brabham and Surtees starting the last lap, but his car had not been filled with enough fuel for such a performance: it faltered, and finally coasted across the finish line in third place."
Source: Formula One Art & Genius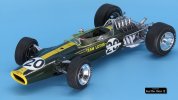 by
Rodolfo Masti
, on Flickr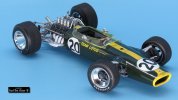 by
Rodolfo Masti
, on Flickr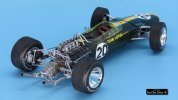 by
Rodolfo Masti
, on Flickr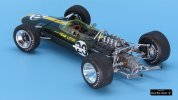 by
Rodolfo Masti
, on Flickr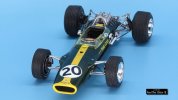 by
Rodolfo Masti
, on Flickr