Joined

Jun 10, 2021
Messages

266
So recently I've been looking to build something a little different, after building a few model battle ships I took an interest in the aircraft they have on board specifically the Kingfisher, being a private pilot in my personal life aircraft fascinate me and the Kingfisher is no exception, I have found that there aren't many existing complete aircraft still around today the most notable is on board a Museum ship.
Looking for a good model kit of the king fisher seems pretty challenging,
I've found this kit which would be pretty cool though I can't seem to find any completed kits to use as reference and the scale seems of for an aircraft 1/200?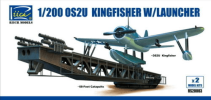 Most kits seems to be in 1/48 or 1/72 with the latter being more common and the foremost being seemingly a better kit but rare.
Then there is the 1/32 kit which seems to be even rarer how ever there are a lot of detail up kits for this scale


If anyone has any suggestions or can provide some more insight I'd greatly appreciate it