Joined

Feb 26, 2020
Messages

41
Some may have noticed that I am a S L O W modeler, with some of my projects taking up to a year and a half to complete. One of the downsides to this is I don't get much practice painting, which I see as my biggest weakness. So when I finish a model and it's time to paint it, its been 1.5 yrs since my last attempt. Not a great way to make incremental improvement.
This has been bothering me a bit, so I decided to try and intersperse my bigger projects with quicker, built-over-a-weekend type projects that are more spontaneous and get me trying out some different paint techniques more regularly. So here's the first in what I hope will be a series of quickie scratch builds.
For this one, I wanted to do a sort of space probe or satellite In the Ma.K style. I did a couple of sketches and I thought this one had some potential.

For the bottom sphere, I used a hollow acrylic Christmas ornament.

For the top dome section, I printed it in polystyrene filament on my cheapo 3D printer. This is something I hope to do more of, going forward.
I was able to go from my sketch-->to computer-->to holding it in my hand in a matter of hours. My printer isn't great for highly detailed stuff, but it
can
print styrene so it's perfect for quickly building up structural shapes that can be easily detailed with kit parts.

I printed the dome in two sections. Once it was finished, I glued them together and gave it a rough sanding to remove layer lines. I then applied Tamiya putty to give it a heavy cast texture. I know satellites are built as lightweight as possible, so making this one look like it was cast in iron is completely absurd and really appeals to me.

To make the transition between the two shapes, I used this plastic part that I've been dying to use for ages.
The paper towel dispensers where I work use these plastic inserts inside the cardboard tube ends to secure the towels inside the dispenser. Every time I change the roll, I grab the little insert. I thought it had potential for future model use and as luck would have it, it's made of polystyrene. I still have a bunch left over for future models.

I sanded the tines to match the contour of the sphere by wrapping a narrow strip of sandpaper over the sphere
and sanding two opposing tines in turn. Then I just rotated it to do the next pair and so on.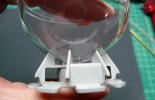 A styrene tube down the center, is what registers all the parts together. I also adapted this tube to receive a 3mm
brass tube to support the model for display.



The sphere got the same Tamiya putty texture applied with a piece of sponge.

All that was really left to do was add some detail with kit parts....







So this came together quickly over a couple afternoons, which is pretty huge for me.
Working fast and carefree without agonizing over every detail was very liberating.
I think this will be a fun model to paint and practice chipping and rust techniques on in preparation for
painting my
flying truck model
.
thanks for looking.
Pete
Last edited: