Joined

Dec 1, 2013
Messages

74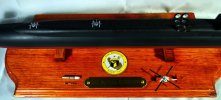 1/350 USS
Michigan
; accompanied by a Veteran Models 1/350 SH-60 Seahawk (painted as a USCG MH-60 Jayhawk), Mark 48 torpedo, UGM-96 Trident I ballistic missile, and a custom display stand.
Watercraft is not my wheelhouse (haha...), but I was asked by a family friend of mine if I would be interested in painting the submarine he served aboard during his time in the US Navy. I immediately said yes for a number of reasons, primarily because I have no experience with watercraft and I wanted to broaden my horizons and also because I enjoy making something that has special meaning for someone.
This kit is the Cyber-Hobby 1/350 USS
Chicago
painted to match the
Michigan
as it appeared during my client's time aboard her. The kit was fairly straightforward, though I was concerned when I found that the missile deck didn't sit flush with the rest of the hull so I modified it so it did. It was only after I got it glued together did I notice in some of my reference photos that the turtleback sat off of the hull. I decided against trying to fix it because I thought it would be too much of a hassle. I decided to try and re-scribe the the recessed panel lines and it turned out okay. However, I saw another build of the boat where the modeler filled all of the panel lines. I rechecked my reference photos and found that to be accurate so I did the same thing, using Tamiya putty. After about six cycles of sand-prime-sand again, I finally got the hull relatively smooth.
For the hull colors, I used Tamiya Hull Red with a thin coat of Flat Red for the anti-fouling paint and Tamiya NATO Black for the top half. I used Tamiya Rubber Black for the anti-skid surface on the the missile deck; it provided just enough of a color difference to noticeable and the effect was quite pleasant. The screw was painted with VMC Brass and the masts/periscopes were painted with a mix of Tamiya Ocean Grey 2 and Flat White with the camouflage pattern done with a mix of VGA Sombre Grey and Black. I used the kit decals for the depth markings and 1/350 WWII Cruiser & Destroyer numbers from Total Navy for the hull numbers. The kit helicopter was pretty poor as far as detail goes, so I used the SH-60 Seahawk from Veteran Models as a replacement. My client requested the helicopter to be painted to match the USCG MH-60 Jayhawk. I inquired as to why he wanted this helicopter to be USGS and USN. He told me one of his duties was communicating with helicopter crews when they were surfaced and where he was based out of (Bangor, Washington) the crews he worked with were USGC and not Navy.
I managed to find a decent piece of pine at Hobby Lobby that was perfectly sized for a display stand. I found a lady on eBay who makes challenge coins so I bought one and used a forstner bit to make whole and mount the coin and bought a custom made brass nameplate from US Brass Shop. The wood was given two coats of Gunstock stain and a coat of satin polyurethane to seal it.
All and all, I enjoyed this model and I feel like it turned out pretty good for my first maritime model. Most importantly, my client was extremely pleased with the end result! He told me that when he was on the boat, he had a model of it someone made while serving. It had passed down through a couple of different people after they left and he wound up with it. When it was his time to get out 16 years ago, he contemplated keeping it but instead found someone to pass it on to. He had wanted one to replace it since he left the Navy and he just happened to see my models on Facebook and asked me to make it for him! He will also display the model in a case in the gun shop he owns in Culpeper, VA, which is pretty cool!