My name's actually not Steve
Joined

Jun 12, 2015
Messages

273
In the '80s, Tsukuda made a line of Nausicaa models. About 10 years or so ago, Bandai retooled these old kits, making them semi-snap fit , resculpted the faces, provided eye decals, and injected the parts in colored plastic. I have all of them, and I'm working on Nausicaa's glider kit.
I've finished the glider and since last weekend, I have begun painting the Nausicaa figure. I airbrushed her face Mr. Color 51 Flesh (with just a tiny bit of white added in). The rest has been hand-painted. I used Mr. Hobby Aqueous paints for her trousers, and Delta Ceramcoat paints for her tunic, gloves, and boots.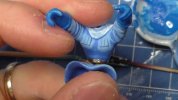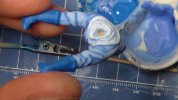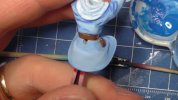 The Delta Ceramcoat paint I used is called Blue Jay. I added a darker blue to it to paint the creases, and added some white to it to paint highlights. It's rather contrast-y.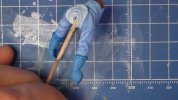 I watered down Blue Jay to glaze over everything and blended it in.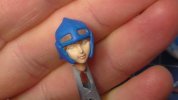 I used Delta Ceramcoat Mediterranean Blue for her cowl, gloves, and boots. It was a bit dark, so I added some white to it.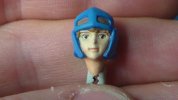 Here is the lighted color (the original darker color preserved for shading) as well as eye decals in place. Oh look, I have a hangnail.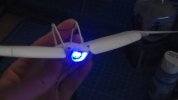 The engine is lighted. The central part of the engine was the exact diameter of a 5mm LED, so I replaced it with a flickering blue LED and ran wires down the bottom.
I now need to airbrush a flat coat over the parts, go over the silver and gold again, and assemble. Nausicaa is shaped to be crouching on the glider, rather than lying like plank as she does at high speed.