Joined

Mar 8, 2013
Messages

8
Firstly a big thank you for taking the time to come and look at my build thread! I am a very recent member of Scale Model Addict and this is my first contest so I have to admit to being a little nervous and excited to share my work(!) with such a large and experienced audience.
The box-top of the Airfix 1:48 Canberra B(I)6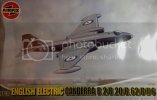 The model I have chosen is one of Airfix's newer kits, being launched quite soon after their acquisition by the Hornby group. Although being by Airfix (traditionally one of the least expensive kit makers), at 1:48 scale it is a fair old lump of plastic so has a list price of about £40($60). Luckily though, fierce discounting by on-line retailers means that the kit can be widely found for less than £20($30), which I figure is a bit of a bargain for what will be a fairly impressively large kit to add to your collection.
Choosing the kit to enter

I've had this kit (along with its sister kit - the PR9, photo reconnaissance version) in my "stash" for quite some time now, waiting for the appropriate time/SIG/Group Build/Competition to come along. It was an eagle-eyed internet friend who pointed me toward this competition (one without loads of restrictions!), and the perfect opportunity to both build this kit of one of my favorite "classic" British aircraft, and share my build with other like-minded enthusiasts.
The only problem (or in marketing talk "opportunity") is that I had already missed the start-date by some time - over one month out of the three allotted, meaning I'm putting a lot of pressure on myself if I want to get this kit built on time, and to a sufficient quality not to embarrass myself in the competition.
Choosing which version of the kit to build

I've decided to build the B(I)6 - Interdiction - version of the kit. It has a:
Great colour scheme
Best in-box decals
Big old canon gun pack below the fuselage
Lovely choice of ordinance with bombs, missiles and two choices of rockets available
I only wish there were options for an early US version, or better, in-service (Vietnam) Canadian option, than the German stationed "Cold-War" British RAF version. But on balance I felt that the version chosen had the best balance of visual impact, camo pattern, decal set and weapons choice.
Enhancing the build with after-market extras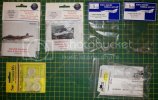 The kit is blessed with some of the more modern attributes, like recessed panel lines and positionable surfaces. However, it is a fairly simple kit so will benefit greatly from enhancement such as scratch building, after-market parts and enhanced painting techniques.
So, the sensible thing to do is to go for and OOB (Out Of the Box) build, keeping the actual construction phase as simple as possible and concentrating on making up for this with the best paint-job I can manage .....
..... however, I'm not a particularly sensible chap, so I intend to pay homage to this fine publication and its readership by upgrading the kit with the most cost effective aftermarket add-ons I can find on the web. In doing so I can use this build to:
Visually enhance the final model
Upgrade my modeling skills
Share the experience with the forum readers
Utilise the forum to solicit help and best-practice from those interested in the build
So, Ive dipped into my (non-existent) piggy bank, scoured the web searching for existing builds for advice and inspiration, checked out what is available cheaply on eBay and finally checked out the online model shops for parts not available on eBay to come up with the final list of candidate enhancements and have chosen and bought the following:
P/E (Photo Etch) cockpit and exterior set - Eduard
Clear resin canopy and bomb-aimers window - Alley Cat
Resin wheels - Czech Master's Kits
White metal undercarriage legs - Scale Aircraft Conversions
Resin main wheel well & doors - Pavla Models
Resin nose wheel bay & doors - Pavla Models
Resin MB Mk 2CA pilot's seat - Pavla Models
Resin MB Mk 4QS navigator's seat - Pavla Models
Resin gun pack - The Aviation Workshop
Resin underwing pylons & rocket set - The Aviation Workshop
I think that's just about it! ..... OK, so it's a lot more than is strictly necessary for a good build ..... OK, so the upgrades cost about as much as the main kit's list price ..... OK, so there's now almost unlimited potential for fit issues, poor instructions, gluing problems, paint errors and other as-yet unknown construction terrors around the corner. But, and this is a big but (does my butt look big with these!):
Price wise, this still comes under the cost of big detailed kits that are now coming out of the Far East
I don't get to do many builds anymore, so why not try to do the best I can with those I manage to complete
There is surprisingly little detailed, hands-on, practical information about using aftermarket parts available (even on the internet), so this is both a great way of upping the learning-curve for me and potentially a valuable resource for other forum members wishing to enhance their kits using the types of add-ons utilised here
I just hope this doesn't make me run out of time. I also desperately hope that my wife doesn't read this article and realise how much I've blown on this kit.
Anyway, you only live once so they say ..... so, ON WITH THE BUILD!