Joined

Jul 22, 2013
Messages

477
The 2020 Cannonball build is on, this years topic, vehicles in movies and on tv. (We have a year to build)
I chose the Cobra from the original Gumball Rally movie
Can't lose ,...right..? I mean, it won in the movie,...right...?
Anyway there are about 30 of us competing in the race so every builder for themselves...
This kit turns out to be a bit of a dog, contact points nonexistent, old moulds, lack of detail,..blah blah blah glad I have a year..
Started by sanding down the parting lines and ejector marks,.and lightening up the huge wind screen frame...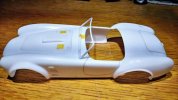 Decided to open up the doors and trunk,..and cut in the two hood scoops, specific to this car...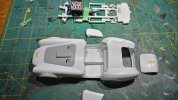 When I was grinding out the back of the gills, of course, I went through the exhaust port so ended up making new gills

And this is where it sits now
Testing colours to match the movie car, I think I found a close match with a $1.50 bottle of craft smart acrylic metallic...
More to come
Cheers