Joined

May 12, 2023
Messages

21
I was posting my progress over on my introductory page but figured it would be best to start a 170 titled thread here.
Recently I purchased an Airfix OE-1 Bird Dog kit. I took the tail feathers off the kit and am modifying a Cessna 180 kit to the 170.
Not too much is involved in the modification for an early model 170 rag-wing. All I did to the fuselage was cut off the tail cone, notch it a bit and narrow the tail end a tad and add the tail pieces from the Bir Dog kit. However, I did not like the way it fit, so I cut off the dorsal and made it an early 170.
As for the wings, I opened a can of red wigglers......
I forgot about the taper wing so I had to cut the aileron off and fill in the gap with some scrap sprue.
I'll start a new thread on the OE-2 project later.......
The below photo shows the parts swap.
Top tan fuselage is the 1/72 scale Airfix OE-1 Bird Dog...more on this later in another topic
Bottom grey fuselage is the 1/72 scale Kovozavody Cessna 180/185 Skywagon kit
I swaped the tail parts...
The OE-1 will be converted to the OE-2 with the square tail (another topic later)
The 180 will be converted to the 170 with the round tail

These photo shows the dorsal issue. The fuselage is swept enough to cause the vertical to "tilt" aft. I cut off the dorsal.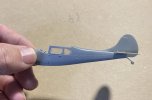 The following photos shows the wing modification,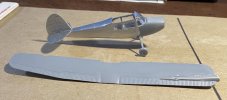 The wing sitting on the fuselage. Note the left wing tip, tapered, and the right "corrected" wing tip.

I'll add some more photos as progress is made........
Last edited: