lets kick some tires and lights some fires!
Joined

Oct 12, 2010
Messages

2,292
ok so here is the plan, for my birthday my grandpa got me a kit, for real cheep, the kit is a 1/48th scale Revell Delta Dart... this will be my first jet, i usually only do piston fighters, and this will also be my first kit i have made some modificatons too!
the Delta Dart was designed as a single engine interceptor fighter, one of the cool things about it is it has weapons bays! and was used from the late 60s till the 80s...
what am i going to do with this kit, supe it up, the jet is going to recieve canards, and a different engine... replacing the J-75 with a J-58! whats the difference? the J-58 is a constant bleed turbojet, it is the engine that was placed in the SR-71! the faster the plane goes, the more efficient the engine becomes! the canards will increase the aircrafts agility, the engine will increase the aircrafts over all speed! this engine was also equipped in the F8-U3 Super crusader, the F8U3 reached mach 2.6 before parts start to come off!
here is the kit
well instruction manual anyhow.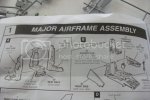 i put the seat together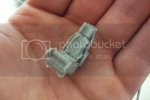 the instrument panel came with decals, i said screw it and paint it myself, i think i made a good choice as the decals for that where a little cheesy...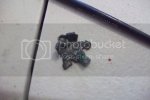 cockpit assembled without instrument panel, looks kind of cool.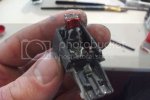 cockpit placed inside upper part of the fusolage.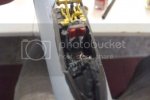 the lower section of the fusolage has been redied for part installation.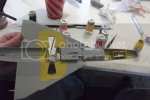 '
see the jet engine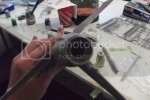 besides the sealer, this is what i have gotten done so far... i will probably do more tomarrow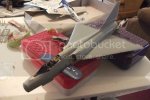 some of the parts are awful fits... and require tuns of sealer, this thing has been cressened the "sealer jet" beacuse i had to put so much sealer on it, the paint scheme will be camouflage, with a few markings.