Joined

May 13, 2009
Messages

257
Now, admittedly..
When I scored this kit...i REALLY wanted the 1701. But alas, I scored this one first and it was a surprisingly uplifting and encouraging build for myself.
Truth is, I had been away from scale models for about ten years or so and this was my first one back into the hobby i thought i left behind.
Anyway, I should take better pics of this behemoth.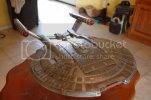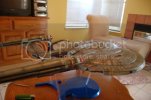 Pretty much from the start, i decided i wanted a heavily weathered look for this ship. I just thought it looked better with some age and some dirt..did wonders for the Millenium Falcon.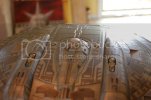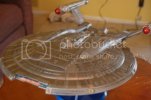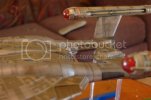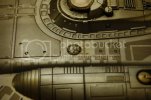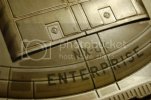 And this last one, I indulged myself... growing up I always wanted to be a professional model maker..or at least to be the dude who paints them for a living..so, I dropped in a background and tweaked the lighting on the model.
There are no lights in the kit, but with the wonders of modern technology, just a little swipe with the burn tool in photoshop and Viola!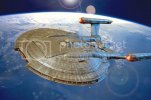 Anway, thanks for checking out my stuff here. Looking forward to sharing some more of my sci-fi projects.